How to choose the right paint colors for your house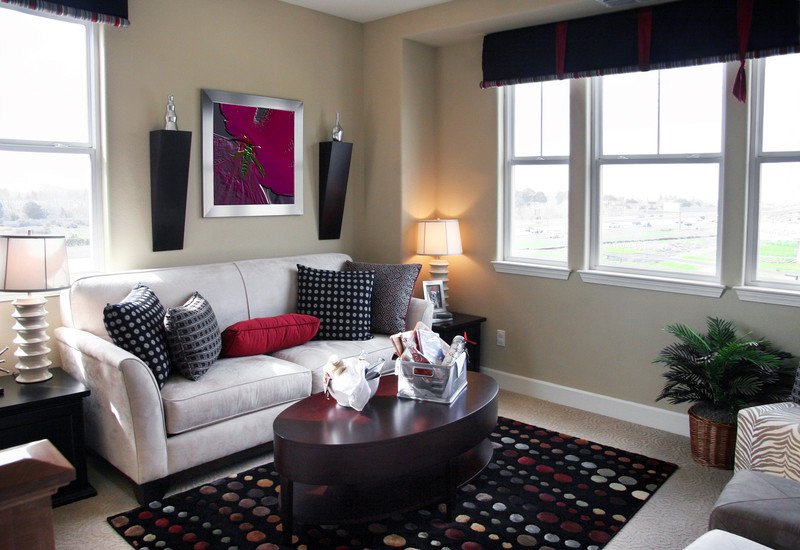 Credits: canstockphoto
---
You'd think that choosing the right colors for your home would be a fairly easy task, but when you're faced with hundreds of colors with various shades, you realize it's a lot tougher than you think. Imagine having to choose from various shades of white! Who would have thought the color white, a safe and popular color, could have so many shades? Well to make your job a little bit easier, here are some tips on how you can choose the right paint colors for your home.
Types of Colors
Before you start off with your room or home make-over, you first need to know the types of colors. There are three basic color types you can choose from: warm colors; cool colors; and neutral colors. These colors affect the mood of the room and likewise of the inhabitants of a room or home.
Warm Colors include red, orange and yellow. Red is the most passionate warm color. It may be used as an accent in a room. Orange on the other hand is a conversation color, it is bright and cheerful. It is often used in dining rooms and kitchens. Yellow is an action color. It is playful and energetic.
Cool Colors include blue, green, indigo, and violet. Cool tones are the opposite of warm colors as they invite relaxation and meditation. Blue for instance being the color of the ocean, has a spa calming effect. Green as it is the color of nature has a calming cool effect. Indigo and violet tones on the other hand bring a sense of spirituality and meditation.
Neutral Colors include white, black, and brown. White embodies purity, peace, and intellect. A popular color to use in various rooms and home space, white is elegant and safe. You may use it in the office room or in places where people need to think. Black and brown colors are grounding colors that may be used in various spaces in a home.
Room Function
When deciding on paint color, it would be helpful if you knew the function of each room. If you would be having a lot of activity in a room like say in a playroom for the kids, warmer colors would be a good idea. Warm shades of yellow and orange for instance will help keep the room vibrant and alive. For rooms that will be used for contemplation, relaxation, and calmness such as the bedroom for example, cool and neutral colors would be better.
Theme
Would a room be having a theme? If yes, then choose colors that will fit your theme. If you're theme is romantic and love then various shades of red would be the obvious choice. For a gothic look on the other hand, black and darker shades would be a better fit.
User
Taking into consideration the user or users of the room will help you decide on paint shades. Will the room be used by an individual or will it be shared? If it would be shared, then it would be helpful to take into consideration the preference of several people and not just a few.
Great Tips:
Research. There are a lot of places you can do your research regarding various paint colors. Look at magazines, paint pallets at paint stores, art work, and even features in your home you want to keep permanent such as floors, cabinets, tiles, and big furniture.

Lighting. Lighting in a room may change how you look at certain colors. Take a look at each room and find out how much natural light you get for instance. For little to none, cool colors are preferred. For rooms that have more natural light, preference would lean towards deeper and more serene colors. Colors tend to change too depending on room light. This is the reason why paint stores have light boxes for you to use and test paint chips. Natural daylight shows the truest colors; incandescent lighting shows warm tones and yellows; while fluorescent lighting casts a sharp blue tone.

Buy paint samples and test them first. Before committing on a paint color, buy paint samples first. Try to buy different shades but on small quantities. Paint a small portion of your wall with the color samples. Sleep on it. Take a day or two! Then decide.
Top paint brands in Singapore include Nippon Paint, Dulux Paint, and Jotun Paint. Scan through each brand and see the multitude of choices you have. You won't have a problem with choices for sure. Just make sure you know what each room is for, who will use the room, and decide on a theme. These will surely make your decision making a lot easier.

---
Looking to hire a professional interior designer? Contact reliable interior designers in Singapore by checking out our Business Directory.